IRELAND with simon reeve


Ireland with Simon Reeve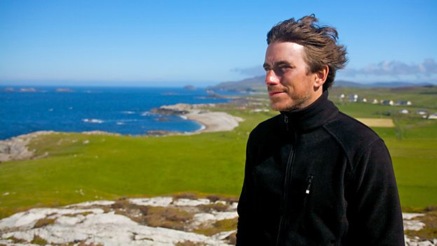 --------------
Date: 07.10.2015 Last updated: 07.10.2015 at 12.57
Category: BBC Two; Salford; Factual; Commissioning
Simon Reeve's next BBC Two series will see him exploring a culture a little closer to home than usual, in Ireland, the BBC has announced today.
The new 2x60 minutes series, titled Ireland With Simon Reeve, follows Simon as he travels around the Republic of Ireland and Northern Ireland - one of the most beautiful islands in the world: a place steeped in culture, history and belief, but one with a complex and troubled past. The series will look at how centuries of religion, history and politics have shaped life there and still affect people today.
Across the series Simon will uncover a place of myths and spirituality, alongside a modern state still attempting to work out its identity and values: a multicultural place where communities no longer just define themselves along Protestant and Catholic lines.
Following in the style of Simon's previous documentaries for BBC Religion & Ethics (Pilgrimage With Simon Reeve; Sacred Rivers) the programme takes the viewer on a journey, with light and shade in its tone and choice of stories.
Simon Reeve says: "I really hadn't travelled much in Ireland before starting this journey, so the whole experience was a complete eye-opener. It's a stunning place to visit, packed with extraordinary history, wonderfully welcoming people, and spectacular landscapes.
"Unlike almost all the other telly travellers who've been there in recent decades, I'm not Irish - I don't even have an Irish auntie. But that was part of why I wanted to go: there's nowhere closer that I understood less.
"So I set out on a journey around the whole island. I felt at home there, but it also felt exotic. It's close to where I'm from, but still far away. My trip taught me a huge amount about the place, and I think I understand a bit more now about Ireland's complex history and ongoing challenges. I loved the place, and I loved the Irish - north and south. They were endlessly funny and patient when dealing with a daft outsider asking daft questions."
Aaqil Ahmed, Head of BBC Religion & Ethics and commissioner for the Ireland series, comments: "David is an excellent addition to our team and brings with him a wealth of TV experience and knowledge. I've been lucky to work with David on a number of projects over the years and I am really excited about working with him more closely and benefiting from his creative talents and ideas.
"This latest project is a real challenge as it's a subject most people have never really thought about - yet it's so close to home. Simon and the team have delivered an exciting series and it's exactly where religion should be - explaining how we got to where we are today, in this case the making of modern Ireland and Britain's often challenging relationship with it."
Notes to Editors
The executive producer for the series is David Upshal, who has just joined the BBC to work across Religion & Ethics output. David moves from Lion TV where he has spent the last 11 years devising and exec producing factual programmes, including long running series Victorian Farm for BBC Two and its now expansive franchise.
Ireland with Simon Reeve is produced by in-house BBC Religion & Ethics. The series producer is Dominic Ozanne and the executive producer is David Upshal. The series is due to TX later in the year.
Pictured: Simon Reeve at Malin Head County Donegal, Ireland's most northerly point.

Daily Mail: "Pick of the Week…unique encounters and experiences"
The Observer: "Reeve's programmes are always engaging…and this two-part tour is no exception"
Daily Mirror: "Don't Miss…an epic journey to explore the landscape and people of Ireland"


----------
Confirmed for BBC Two on 22 November at 8pm to 9pm
Ep 1/2
Sunday 22 November
8.00pm-9.00pm
BBC TWO
NEW
Ireland with Simon Reeve explores the Republic of Ireland and Northern Ireland in a new two-part series for BBC Two. Both form one of the most beautiful islands in the world: a place steeped in history, culture and belief, but one with a complex and troubled past.
In this first episode, Simon arrives by ferry into County Wexford. He looks at the beginnings of the long and turbulent relationship between Britain and Ireland, and takes a paramotor flight up along the coast. From here he heads up to Cork and joins the thousands who make the challenging climb up the sacred mountain of Croagh Patrick.
He travels to the surf town of Lahinch before heading to Northern Ireland, where he visits Crom Castle and moves on to the city of Londonderry. He concludes the first episode by crossing the border again into County Donegal, and ends his journey at Malin Head, the northernmost tip of the island.
Ireland with Simon Reeve is produced in partnership with The Open University.