Simon has written, edited or contributed to a series of travel and current-affairs books investigating subjects such as terrorism, biological warfare, international organised crime and nuclear smuggling.
Simon's books have been published and sold around the world and translated into at least 20 languages.
Buy Simon's latest book here: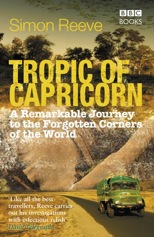 Tropic of Capricorn
, published by BBC Books -
Paperback edition on Amazon
. In his greatest challenge yet, author and broadcaster Simon Reeve sets out on a unique journey to track the Tropic of Capricorn around the globe. Motivated by a desire to learn more about forgotten corners of the world, Simon heads east through Africa, Australia and South America, discovering breathtaking sights, strange rituals, desperate poverty and exotic wildlife. For the 22,835-mile Tropic of Capricorn marks the southern border of the tropics, and crosses some of the wildest and most spectacular parts of our planet.
Learn more
.

The New Jackals: Ramzi Yousef, Osama bin Laden and the future of terrorism
: published by Carlton and Penguin, this book warned of a new age of apocalyptic terrorism, and was the first in the world on bin Laden and al Qaeda. Originally published in 1998, it has been a New York Times bestseller, and was the third bestselling book in the US in the months after the attacks of 9/11.

One Day in September: the full story of the 1972 Munich Olympics massacre and the Israeli revenge operation 'Wrath of God'
: published by Faber & Faber in the UK, and Penguin internationally. The film of the same name, narrated by the actor Michael Douglas, won an Oscar for best feature documentary. The story of the Munich massacre and subsequent Israeli revenge operation has been turned into 'Munich' a major new feature movie by Steven Spielberg

Articles written by Simon

If you'd like to get a signed paperback copy of The New Jackals or One Day in September you can buy a copy below. After clicking through Paypal please send us a message via the contact page and tell us what you'd like Simon to write in your book.






If Simon is working abroad it might be several weeks before he can sign your copy. Please be patient!


Home l Books l TV l Articles l Contact l Questions? l Biography