After-Dinner Speaking / Public Appearances / Awards Hosting

For all public appearances and talks, including queries from businesses, event organisers, and awards ceremonies -- please contact:
Amy Chapman
amychapmanpr 'at' gmail.com


**************************************************************************************

Simon Reeve
Award-winning TV adventurer, bestselling author, Inspiring Speaker

Arrested by the KGB, chased by cheetahs, hunting with the Bushmen of the Kalahari…Simon Reeve has lived quite a life. He's the leading adventure traveller on British Television, travelling and filming in 120 countries, including many of the most beautiful, remote and dangerous parts of the planet. Simon explores and explains the world to tens of millions of TV viewers globally, travelling in a unique way that blends adventure with serious issues.
Simon's also the New York Times bestselling author of more than six books. He has received a One World Broadcasting Trust Award for "an outstanding contribution to greater world understanding" and the prestigious Ness Award from the Royal Geographical Society. His 20 TV series include Caribbean, Sacred Rivers, Indian Ocean, Tropic of Cancer, and Equator. But Simon started with nothing. After a misspent youth he left school with no real qualifications and went on the dole.
Simon changed his life, overcame his fears, and became a leading investigator, author and TV presenter. Hear inspiring stories from his travels of people who've overcome adversity, and how talent can be found in the most unlikely of settings. Simon will pepper his talk with extraordinary tales from his journeys that will fill your clients with awe. Whether delivering an After Dinner Speech, hosting an Awards Ceremony, or appearing in a Q&A, Simon will encourage and enthuse your clients and guests, inspiring and motivating the audience.

Subjects Simon can talk about include:
-- overcoming adversity, and how talent can be found in the most unlikely of settings
-- changing your life and fulfilling your potential
-- team decision-making in Extreme situations
-- An Evening with Simon Reeve

Travel:
-- The Joy of Travel and How to Travel
-- The unexplored world / Travel's new frontiers
-- Can you be an explorer in the 21st century?
-- The Golden Age of Travel (it's now)

please contact:
Amy Chapman
amychapmanpr 'at' gmail.com

Previous Clients:
"We've had fantastic feedback from our guests"
"delegates absolutely loved listening and talking to him and he gave so generously of his time"
"the highest rated of all the conference sessions"
"one of the most professional presenters I've ever worked with"
Simon's "natural connection with the audience was spot on"
"the way he connects with the general public is lovely to see"
"there was a great respect for Simon and the programmes he makes"
"you had the audience hanging off every word you said"
"your professionalism and enthusiasm whilst presenting the awards kept the energy levels high in the room right until the very end"
"stories were delivered in a way that had you laughing one minute and in awe in the next"
"Simon made the event a great success!"

Simon is very happy to host awards ceremonies or deliver talks and After Dinner speeches. Any presentation can be tailored to meet the needs of your event. Simon also often appears at events in a Q&A or 'in conversation with…' format, either with an interviewer or just with an inquisitive audience – no question is off-limits (!).

We can provide images and film footage to accompany the appearance, if desired.

please contact:
Amy Chapman
amychapmanpr 'at' gmail.com

What others have said...
Michael Palin, broadcaster and President of the Royal Geographical Society: "Travelling multiple times around the world…he has revealed many special and also difficult, contested and inhospitable places. With programmes and books that reach out across the generations he's a keen and infectious geographer!"
BBC: "Simon Reeve is British television's most adventurous traveller"
The Independent: "TV's most interesting globetrotter"
Radio Times: "In the last decade, he's made a name for himself as British TV's most adventurous presenter."
The Observer: "When it comes to explaining complex issues in simple terms, Simon Reeve is an expert…a man whose very name is a guarantee of interesting television. Outstanding."
The Daily Telegraph said: "like all the best travellers, Reeve carries out his investigations with infectious relish, and in the realisation that trying to understand the country you're in is not just fascinating, but also hugely enjoyable."
The Sun: "Simon might just be the best tour guide in the world"
The Times: "Reeve is in a class of his own".


******************************************************

High resolution publicity photos can be found
here
BIOGRAPHY:

Simon Reeve is an adventurer, TV presenter and New York Times bestselling author with a passion for travel, wildlife, history, current affairs, conservation and the environment. Simon is the presenter of the TV series Indian Ocean and has been around the world three times for the series Equator, Tropic of Capricorn, and Tropic of Cancer. He has travelled extensively in more than 120 countries.


Simon is an ambassador for the nature conservation organisation WWF, and has been awarded a One World Broadcasting Trust award for an "outstanding contribution to greater world understanding", the prestigious Ness Award from the Royal Geographical Society, the Special Contribution Award at the Travel Media Awards, multiple reader awards for Best and Top TV series from leading travel magazines, and the John Tompkins Natural History Award from the International Moving Image Society, an award "for extraordinary achievements" in the field of natural wildlife and history filmmaking. His books, which have been in the bestseller lists of both The Sunday Times and The New York Times, include Step by Step, Tropic of Capricorn (published by BBC Books), and The New Jackals: Ramzi Yousef, Osama bin Laden and the Future of Terrorism, a New York Times bestseller, published in 1998, which predicted the rise of al Qaeda and a new age of apocalyptic terrorism. His book One Day in September: the story of the 1972 Munich Olympics massacre is also an Oscar-winning documentary movie.

Simon is rapidly becoming one of the most widely travelled people in the country. On his travels he's been arrested for spying by the KGB, taught to fish by the President of Moldova, tracked by terrorists, electrocuted in a war-zone and protected by stoned Somali mercenaries. He's hunted with the Bushmen of the Kalahari, walked through minefields, witnessed trench warfare in the Caucasus, struggled across the country enduring the most violent conflict on the planet since WW2, and wandered through a radioactive waste dump while protected by little more than a shower curtain.

He holds an official Somali diplomatic passport – bought from a man called Mr Big Beard in Mogadishu, the most dangerous city in the world. He's been surrounded by a pack of hungry cheetahs, adopted by a tribe of former head-hunters in Borneo, blackmailed and abandoned by drivers in an Ebola zone, pursued by a huge amorous camel around a poisoned sea, had his life saved by Vietnamese sweet wormwood, and eaten some of the weirdest and most unusual foods available, from zebu penis soup to grilled squirrel.

Simon has survived malaria, played polo with the corpse of a headless goat, swum with sea-lions, fished for piranhas, climbed the equivalent of half-way up Everest while surviving on coca leaves, travelled around the planet by van, canoe, car, train, boat, horseback, helicopter, plane, a 50-metre-long $1m truck, and used a zip-line to get inside one of the most repressive states in the world.

Born and raised in west London, Simon went to a local comprehensive, where he was an unspectacular student. After a series of terrible jobs, including working in a supermarket, a jewellery shop, and a charity shop, Simon finally found gainful employment as a postboy at a national newspaper. Still in his teens, he sorted the mail during the day, and began researching and writing in his spare time. His 'big break' came when he found two foreign terrorists on the run in the UK, and he began conducting investigations for the newspaper into subjects such as arms-dealing, nuclear smuggling, terrorism and organised crime. By the age of 19 he was a staff writer on the newspaper, one of the youngest ever.

In 1993, Simon began studying the first World Trade Center attack just hours after the bombing. While investigating the background and origins of those responsible for the 1993 terrorist strike, Simon discovered more terror attacks were being planned by a disparate group of militants connected to the bombers - a group now commonly called al Qaeda.

Over the next few years, Simon traced and interviewed 'Afghan Arabs' and close friends and supporters of Osama bin Laden, along with senior FBI, CIA, and Asian intelligence officials. Simon had clandestine meetings with spies and militants in tea houses, car parks and burger bars, was followed by secret agents from at least two countries, and worked undercover in disguise while searching for a former Lebanese arms smuggler. Traveling across three continents, Simon obtained classified documents and evidence detailing the existence, development and aims of the most dangerous terrorist organisation in modern history.

Simon's research and conclusions formed the basis of his first book The New Jackals: Ramzi Yousef, Osama bin Laden and the future of terrorism. Published in the UK and USA in the late 1990s it was the first book in the world on bin Laden and al Qaeda. The New Jackals warned al Qaeda was planning huge attacks on the West, and concluded an apocalyptic terrorist strike by the group was almost inevitable.

Simon's next book was One Day in September: the story of the 1972 Munich Olympics massacre and Israeli revenge operation 'Wrath of God', published by Faber and Faber. The movie of the same name, narrated by the actor Michael Douglas, won the Oscar for best feature documentary.

At the time of the attacks of September 11, 2001, Simon's book The New Jackals was one of few sources of information about Osama bin Laden and al Qaeda. The book became a New York Times bestseller, and in the three months after the 9/11 attacks was one of the top three bestselling books in the United States. Simon was repeatedly asked to comment on the new terror threat and the Western response. He became a regular guest and contributor to all of the major US and UK TV networks, including the BBC. In recent years Simon has been travelling around little-known regions of the world for a series of television documentaries.


Simon's younger brother is award-winning photographer James Reeve, who has won The Independent/Wanderlust/Nikon Professional Travel Photographer of the Year, the Observer Hodge Award, the British National Portrait Gallery Portrait Prize and is a Fifty Crows Foundation Grant Winner.

Simon is married to Anya, a television camerawoman and campaigner who also works as a model. They have one son.


Buy Simon's latest book here:
TV WORK:

Simon's first TV series was
Meet the Stans
. In this four part series on Central Asia, broadcast during 2003 and 2004, Simon journeyed from the far north-west of Kazakhstan, by the Russian border, east to the Chinese border, south through Kyrgyzstan and Tajikistan to the edge of Afghanistan, and west to Uzbekistan and the legendary Silk Road cities of Samarkand and Bukhara.


During Summer 2004 the documentary
House of Saud
showed Simon traveling around the Kingdom of Saudi Arabia, from the cities of Riyadh and Jeddah, to the isolation of the Empty Quarter desert.

For the five-part series
Places That Don't Exist,
broadcast in 2005, Simon visited a group of unrecognised nations – countries so obscure they don't officially exist - including Somaliland, Transdniestria, Nagorno-Karabkh, Taiwan, Adjaria/Ajaria and South Ossetia.

In 2006 Simon travelled around the world for the series
Equator
, The journey took Simon around the region with both the richest biodiversity, and perhaps the greatest concentration of human suffering. Among the countries visited were Gabon, the Democratic Republic of Congo, Uganda, Kenya, Indonesian Sumatra, Borneo and Sulawesi, the Galapagos Islands, Ecuador, Colombia and Brazil.

In 2007 Simon set-off around the
Tropic of Capricorn
for a TV series and book. The Capricorn journey started in Namibia, and took Simon through Botswana, South Africa, Mozambique, Madagascar, Western Australia, the Northern Territory, Queensland, Chile, Argentina, Paraguay and Brazil.


During 2008 and early 2009, Simon
and a team of presenters travelled to some of the most exotic and extreme locations on earth for a new TV series called
Explore
.
Explore blends travel with current affairs to get under the skin of some fascinating countries.


Simon spent more than six months travelling around the
Tropic of Cancer
during 2009 for a TV series shown on BBC2 during spring 2010. The series
enthralled millions and was described by The Times as: "a real gem…Reeve is in a class of his own". Readers of a leading travel magazine voted it their favourite TV series.

During 2011 Simon filmed
Indian Ocean
, a new journey in which he travels around our third largest ocean for a 6x1hr series broadcast during 2012.

And during 2012 and 2013 Simon filmed
Australia
, which took him on three journeys around a country the size of a continent.

Simon says his main professional motivation is a fascination with interesting stories, and a basic desire to learn more about issues and subjects that matter, whether that be the emergence of a new terrorist organisation, the personal story of a stateless refugee, or the problems of an apparently obscure country. "Thanks to globalisation, events, issues and problems in far-off countries can have a direct impact on the cozy lives of those of us lucky enough to live in the West," he says. "So why don't we try to find out a little bit more about those issues, and try to resolve them - before they become major problems for all of us?"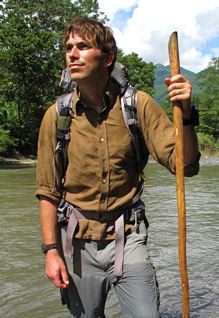 Publicity photos: view and download this image at high-resolution
Photo caption: Simon Reeve photographed on his Tropic of Cancer journey while wading across a river in western Burma towards a remote village of the Chin people. Simon's crossing into Chin State was illegal and extremely risky, as Burmese army patrols were a constant threat in one of the most repressive countries in the world. Credit: www.simonreeve.co.uk

Interviews, chats and other stuff with Simon:
BBC Knowledge vid interview
BBC Human Planet Explorer interview

The Observer l Wanderlust travel mag 1 l Wanderlust travel mag 2 l BBC website
My Life in Travel l My Week In Media l My Life In Media
Sunday Telegraph interview l Simon's Travel CV at Wanderlust




see the award-winning photography of James Reeve, Simon's brother, here. He's very good.